Can stone benchtops crack or get damaged?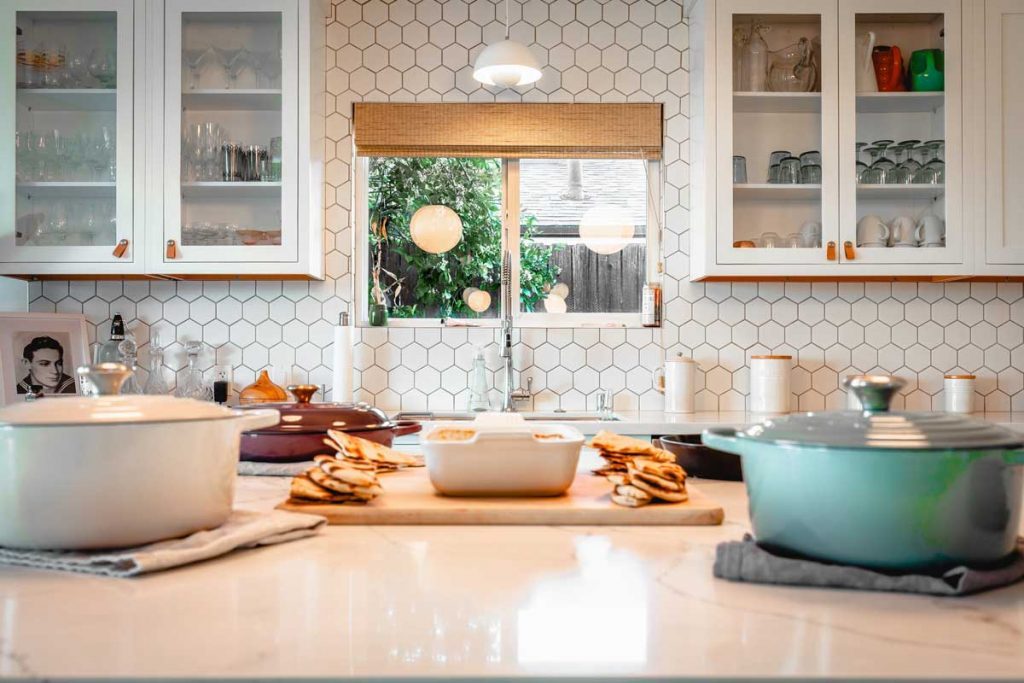 June 12, 2020
Kitchen Benchtop
It's not common, but stone benchtops can get chipped or cracked. In this blog we look at why this happens and how you can prevent it.
Holding centre stage in the heart of your home, your benchtop is one of the highest used features. Over time, you can expect some cracking or chipping, even in your sturdy stone benchtop, if you don't take proper care. Common reasons why your stone benchtop can crack or chip are:
Temperature shock: Sudden or extreme changes in temperatures can cause a thermal shock, which is the uneven expansion of molecules in your stone benchtop. For example, keeping a piping hot tray that has just come out of the oven directly on your stone benchtop. Or leaving your crock pot on all day for an extended time period; even harsh sun hitting the surface.
Excessive weight: All materials are designed to handle a particular weight. If that is exceeded, it can break. Standing on top of your stone benchtop is one such case.
Incorrect installation: Getting your stone benchtop installed by an expert is highly recommended. Incorrect installation can result in damage. There are some essentials you must keep in mind even during the design phase. For example, you should avoid installing a stone benchtop that has been cut into an 'L' shape over a kitchen corner as this creates a weak point in your stone. Using square and rectangle pieces with joins in between is better.
Building movements: Structural movements in your house due to foundation issues can also lead to weakening or cracking of your benchtop.
Exposed edges, especially if they are sharp squares, are more likely to chip if something falls on them. Undermount sinks also leave more areas on your stone benchtop exposed and could be an area where chipping happens with impact.
How to mend your stone benchtop?
Once a crack or chip occurs, it is advisable to mend it quickly before the crack or chip worsens. DIY repairs may be tempting but not suggested. Seek professional help to fix or repair your stone benchtop.
How to look after your stone benchtop?
Do not place extremely hot pots or trays directly on your stone benchtop. Place them instead on a board or table mat kept on the benchtop.
Ensure that your design and choice in benchtop are aligned. Bad design can result in incorrect installation that affects the integrity of your stone benchtop.
The cabinetry and supports over which the benchtop is installed should be level and of high quality.
Choose a supplier who is experienced in installing stone benchtops. At Incredible Kitchen Company, we have been installing benchtops and cabinetry for many years. We understand the fine nuances of various materials, kitchen designs and how to create a platform you'll love for a long time to come.
Don't stand your kitchen benchtop. It cannot take that much weight and may crack.
Do not use harsh acids on your stone benchtop. Cleaning with warm soapy water or if required, use non-alcohol based cleaners that are not too harsh.
A stone benchtop is a fantastic addition to any home. If you get it installed by a professional and follow some simple care instructions, it will last you a lifetime.