Kitchen renovation on a budget (without losing the wow factor)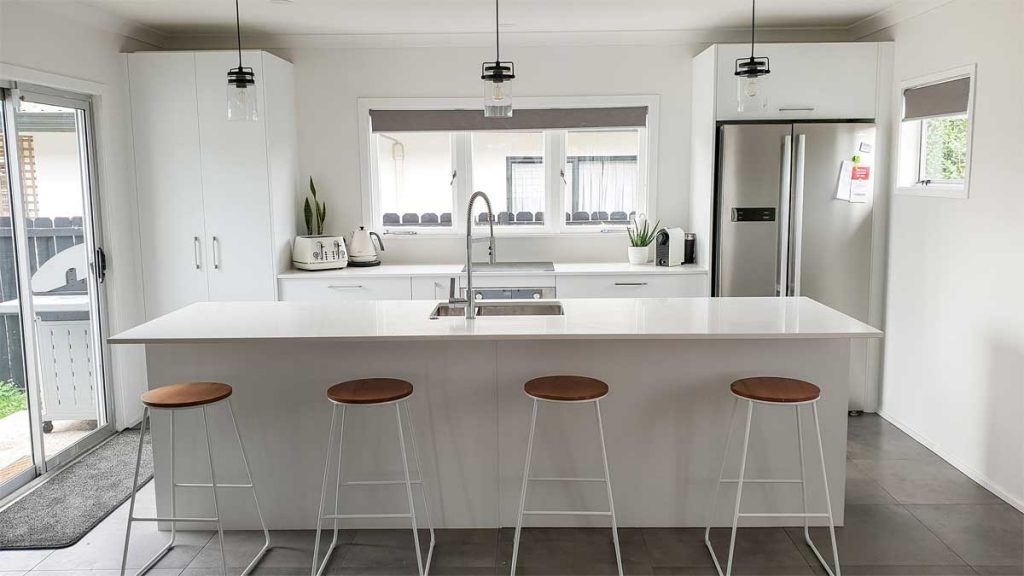 July 5, 2020
Kitchen Renovation
Remodeling your kitchen doesn't need to cost a fortune. From your choice in kitchen benchtop to cabinetry and layout, here are a few tips that can save you money on your kitchen project.
Stick to the existing layout. Big money starts to go out when you begin moving cupboards, plumbing, walls, electrics and so on. At least don't change the position of the stove, especially gas stoves that require changing gas lines – an expensive job! Sticking to your existing layout is a good way to keep the budget in control.
Be smart with your choice of kitchen benchtop and cabinetry. Cabinets and benchtops are a big investment. Carefully consider your options – natural stones such as granite and marble come at a higher cost, while engineered stone is manufactured, comes within reach for those with a lower budget. The range for engineered stone is extensive – much more than natural stone and maintenance lower. For those wanting to renovate on a budget, engineered stone is the perfect option for a kitchen benchtop.For cabinetry, flat-pack is a cheaper option. With Incredible Kitchen Company, you can design your dream kitchen online, place the order and assemble it all yourself.Carefully look at your flooring – does it really need replacement? Low-priced flooring options are as good as the more expensive stone ones. The latter is costlier to buy and install.
Reuse your appliances. If your appliances are still okay, then re-use them, and before you throw the kitchen sink away, give it a good going over with a gentle abrasive cleaner, then spend the money you save on a new tap! If you must, look around for best deals before you buy appliances.
Renew, don't replace. If your cabinetry is structurally sound, you may want to consider a makeover. Combined with replacing your kitchen benchtop, the space could look like new.
Get creative with your splash back. People often underestimate the role a splash back plays in bringing instant shine to your kitchen. If you don't have the budget to change the whole kitchen, this little detail can add a breath of fresh air at very little cost. Have you considered giving a tiled splash back a whole new look with tile paint and transform your benchtop with a resurfacing kit that offers a variety of 'stone lookalike' finish.Spending a little on power points, light fittings and window coverings is another way to add a lease of life into your tired kitchen – without breaking the bank.
Call in a professional. DIY is not always the cheaper option – especially if you're the handy sorts. Calling in a professional will save you the higher cost of undoing the damage you may bring on.
Are you considering a kitchen renovation? Get in touch with Incredible Kitchen Company's friendly and experienced crew. Their kitchen planner is a great start for any renovation project.